Lorain County Map with 98 Honored Men's Stories
Mrs. Joyce Young Shows off Student's Handy Work
NORTHWOOD JUNIOR HIGH OFFERS SUPPORT

500 Students, and the staff at Northwood Junior High in Elyria have shown just how warm hearts can be - even amidst frigid January temperatures in Ohio! This was evident to Don Attie, Ken Layport and myself the moment we walked into Northwood recently and saw the results of the hard work and dedication that the students, Mrs. Young, Mr. Hodkey, Mr. Perkins, and Principal Jama have given to this month long Fundraising event for the Vietnam Veterans Memorial of Lorain County.

The Memorial Model on loan from the Committee looked right at home, surrounded by in-depth charts prepared by students, describing average age of casualties, number of casualties by military branch, and number of casualties by location, to mention a few. Don had done his best to describe the breathtaking displays, and the amount of research that had gone into this project - but Ken Laporte and I were still overwhelmed at the sight.

Down the entire length of the hallway were stars, combined to cover the wall in the form of an eagle with wings spread in flight. Below the eagle, biographies of each of the 98 Men from Lorain County were cut and pasted into shapes of Lorain County, which together formed into a larger shape of Lorain County. In addition, a section of the display bore newspaper articles of Men from Elyria who had perished, as well as a list of men that had been honored individually by a donation from students. James Purdy, as described in the Chronicle - has donated over $30 to the Memorial - James has purchased stars and sponsored the Cottrell brothers from Wellington. We were honored to meet and chat with this fine young man, Mr. Perkins and some of his fine students, Mrs. Young, Mr. Hodkey and Principal Jama.

Unfortunately, my words and photos really don't do this special event justice but hopefully it will give you an idea of just how much research, time and effort has gone into it. Don's words to Dave Perozek of the Chronicle said it all - very moving.

Many many many thanks to the Students, Parents and Staff at Northwood Junior High for all of their donations and support of this wonderful cause. A big thanks to Dave Perozek and the Chronicle for covering this wonderful fundraising event!
Dawn Dixon, Don Attie, James Purdy and Ken Layport
Committee Members Meet Big Hearted Teen
Don Attie & Mr. Perkins Answer Teen's Questions
Mr. Hodkey describes a wall of honor

R A F F L E

24" 14KT. YELLOW GOLD ROPE CHAIN

WITH 14KT. YELLOW GOLD ANCHOR

WITH 10 PT FC DIAMOND

VALUED AT OVER $800

Tickets: $5.00 Each or 5 for $20.00

Drawing: April 5, 2003

Winner Need Not Be Present

FOR TICKETS CALL

440-288-7030 OR 440-967-0613
MORE WINTER WEATHER CAMPAIGNS:

During the winter months, due to the lack of outdoor fundraising events, we are shifting our focus in some new directions. Our latest fundraising campaign focuses on letting Lorain County's Veteran Organizations, Corporations and Private Entities know about our mission and giving them a chance to help.

Some of our local veterans groups, as well as corporations have already stepped up to help us, but we need to keep spreading the word - we know many more would like to help us with this great cause - if they only knew about it!

As a small token of our appreciation, we will present all contributors to our new "Medal Campaign" with a beautiful wooden plaque, engraved with their organization name, bearing a medallion designating their level of participation. The three levels are as follows:
$1,000 Gold Medallion
$500 Silver Medallion
$250 Bronze Medallion

In addition to our Medal Campaign, we also have a Corporate Challenge underway. A large veterans assistance group, The Veterans Outreach Program, has offered a challenge to Veterans Groups, Corporate, and Private Entities to match any $5,000 donation offered to help build the Memorial. For those interested in meeting this challenge please contact John Ely, President of Veterans Outreach 524 Youngstown Poland Road, Struthers, Ohio or by phone 888-2VETNET, or visit their website at http://www.veteransoutreach.net

Or, you can always give us a call -440-288-7030 (Don Attie), or 440-967-0613 (Dawn Dixon) for more info.

The Veterans Outreach Program is a wonderful Program that provides much needed assistance to all Veterans.

Be sure and give us a call for a raffle ticket for a chance to win that beautiful necklace! Valued at over $800. The picture really doesn't do it justice - it's gorgeous!!

THANK YOU AND GOD BLESS TO ALL FOR YOUR CONTINUED SUPPORT!!!

COMMITTEE UPDATE:
Thus far, we have collected over $25,000 of the estimated total of $100,000-$150,000 needed to build this beautiful memorial. Site selection is underway - as we continue to receive and review proposals from Localities within
Lorain
County
. We'll keep you updated as selection progresses.
VERY EXCITING NEWS:
Don Attie - our man about town fundraising chairman, as usual, is constantly working hard to get the word out and get this thing built! Thursday, 1/23, Don taped an interview with the educational cable channel - Channel 20 in Lorain. The producers mentioned contacting other local cable channels in the area, so hopefully, beginning Weds., 1/29 - you will catch Don and our Memorial Model in the flesh. He also has an interview airing with North Coast Connections - more details on Don's TV debuts soon.
Don was a busy man that day - he was also on WEOL Radio, 930 AM.
Many many thanks to the Educational Channel, and WEOL Radio for giving Don air time! We really appreciate your much needed help in getting the word out! You'll be hearing and seeing more of Don as time progresses, he has more exciting things coming all the time...stay tuned!!
MORE NEWS:
A few months ago - I promised details of a "Vietnam Veterans Memorial Information Headquarters" It took a while - but we NOW have a nice info. center set up in downtown Elyria. Thanks to the generosity of Gold Star Awards, we have a table set up in their shop, at the corner of 4th and East Avenue. At Gold Star, you can find informational pamphlets with a detachable paver order form, along with buttons, coffee mugs, and t-shirts bearing the Honored 98 Men on the back. Sizes Small-6XLarge. For more information, contact Gold Star Awards at 440-458-6356.

The scale model of the Memorial (constructed by our own Dave Spanski) became quite the traveller over the summer as it made it's way around the county during local fairs, festivals and Fundraising events. Over the fall and winter months, it continues to make it's way around Lorain County Facilities. Watch our schedule for a location near you:

MEMORIAL MODEL SCHEDULE:

Northwood Junior High 1/24 - 2/4

Lorain County Administration Building 2/5/03
2002 Events:
VETERANS DAY :
VETERANS DAY OBSERVANCE
MONDAY - NOV. 11TH
VETERANS MEMORIAL PARK
LORAIN, OHIO
1:00 - 2:30 PM
Children Grades K thru 4 from Lorain Community schools have been collecting change in their classrooms over the last few weeks to help us build our memorial !!
On Friday November 8th, the change the children
accumulated from all the classrooms was collected and counted at the bank. The school issued a check for total of $241 and presented it to the Vietnam Veterans Memorial Committee of Lorain County at our Veterans Day Observance on Monday November 11th.
This was a great event- and luckily it turned out to be a crisp but relatively clear day. We had the Color Guards from Southview High School lead us in the Pledge of Allegiance, had some WWII Vets in attendance, and were also visited by Lorain's own Mayor Foltin! A very special salute to all of these great kids, the Lorain Community School Principal, Cheryl Webber, and her wonderful staff:
Loretta Lee, Diane Mason, Laura Moore, Macy Roenbaugh, Meg Riegler, Lee Henderson, Karen Calala, Tammy Slagle, Dean Perakis, Dali Manning, Jennifer Lamb, and Mike Dwyer.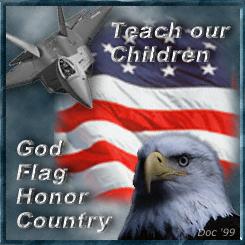 Wooly Bear Festival
October 13, 2002
Vermilion, Ohio
A rather tuckered out, chilly crew of Don & Diane Attie, Larry Stevanus, Kenny Layport and my wonderful husband, Joe Dixon and myself, attended the last festival of the season - on this cold but clear Sunday in Vermilion, Ohio. With eyes half open as a result of our very successful clam bake/steak fry fundraiser the previous evening, this tired but dedicated crew raised the tent for donations at 8AM. I must confess that during setup I stayed in my warm bed - confident in the fact that Don's lovely wife (and our 2nd Trustee) Diane Attie would be there to supervise our honorable but motley crew. She did a wonderful job - and did so wisely - from a safe distance in the warm truck while the guys banged a few knuckles and bent a few poles. Our favorite Marine and 3rd Trustee, Larry Stevanus took a few hits from the cold metal support poles but stood proud nevertheless. Kenny Layport - 1st Trustee declined Larry's request for an additional purple heart, but agreed to take Joe Dixon's suggestion for an honorable mention for the newly designed tent raising. This new design, although somewhat crooked and triangular shaped tent - actually resulted in less wind sheer than the usual set up. Kenny- being the engineer of the group is in the process of submitting the design to the Army Corp. of Engineers.
All in all it was a fun day and we managed to raise about $200 for the cause - so it was well worth the effort.
Joe Dixon - Master Chef with Joe Mendiola
No Joe You CANNOT play with my Knives!
CLAM BAKE / STEAK FRY:

October 12, 2002

Knights of St. John, Lorain Ohio

For our second attempt at a steak fry fundraiser, our King of All Fundraisers, Don Attie decided to add a clam bake to the agenda. This turned out to be a fabulous idea as it gave our guests a choice of a steak, grilled once again to perfection by our own Joe Dixon - or a clam bake dinner with Chef Don at the helm.

The event was a big success thanks to our wonderful guests, great food, and entertainment. A fun night was had by all and we managed to raise close to $2,000 after expenses for our Memorial Fund. Many awesome prizes were won that were generously donated by many of our local vendors - an extra special salute goes out to our guests for their support and to our many vendors who contributed greatly to our success!

A special salute goes out from the Committee to the youngest members of our team - Chris Bray - 20, Desiree Orosz - 17 (niece of one our own 98) and Amanda Caley -17 -who spent all week gathering prizes from many generous vendors for door prizes, as well as for fund raising raffles at the steak fry/clam bake. After running all over town gathering prizes in between school and work - they spent the evening selling tickets at the event to support our cause. Desiree and Chris worked all summer and fall right along side Don, Joe, Kenny, Larry and myself at all the festivals, as well as our first steak fry. It is refreshing to see these young people out there hustling for such a great cause. It is comforting to know that our mission lives on in these bright, energetic, dedicated youngsters.

This event, along with the Wooly Bear Festival wrapped up our summer long list of events in fine fashion which overall, brought us to roughly a 1/4 of the way to our goal of $100,000 to build the memorial. We've come a long way since our our Fundraising Kick-off on Veterans Day 2001 - but we still have a long way to go.

Please keep posted to this site for more exciting news regarding our new Donation Headquarters which will soon reside at Gold Star Awards in Elyria - where you'll be able to purchase cool T-shirts with our Honored 98 listed on the back outlined by the shape of Lorain County, along with buttons, military and patriotic pins, patches, hats, flags and many more cool items! Gold Star Awards - owned and operated by another one of our own Lorain County men who proudly served in Vietnam, has generously offered us space in his shop to sell our items, so that we may continue to raise funds for the Vietnam Veterans of Lorain County Memorial.

Stay tuned for details!

Check out our photo page for more pictures of this summer's events!
MANY THANKS TO OUR CONTRIBUTORS:
Ardick Seafoods
Citgo-Meister & Oberlin
Coffee Beanery-Elyria Mall
Deltas Heavenly Cakes
Drugmart Colorado Ave.
Flashbacks Antique Bicycles
Fligners Market
Ghoulardis Bar & Grill
Glimmers
Goldstar Awards
Goodman Beverage
Ground Round - Elyria
Kaybee Toys Elyria Mall
Kennedys Billiards
Lorain National Bank
Marys Sweet Shop
McDonalds Rte. 2 & Colorado
The Mermaids Tale
Mutt & Jeffs
Pam Nowak
Pat Catans - Amherst
Reed House - Nova
Sams Club
Scorchers Bar & Grill
Smokin Joes - Vermilion
Suncoast - Elyria Mall
Sun Novelty
Super K
Swiss American Jewelers
Teds Floor Covering
Wendys Maint.-Cleveland
Wobl Radio
Knights of St. John - Thanks for the use of your hall !!